KUALA LUMPUR: Malaysia recorded a 1.9% trade expansion over the year to RM207.51bil in January to chalk up the highest recorded value for the month.
According to the Ministry of International Trade and Industry (Miti), exports rose 1.6% to RM112.84bil on the back of strong exports of petroleum products, liquefied natural gas (LNG) as well as electrical and electronics (E&E) products.
Miti also reported a 2.3% increase in imports to RM94.67bil, which narrowed Malaysia's trade surplus by 2.1% year-on-year (y-o-y) to RM18.16bil.
Owing to the shorter working days and long festive holidays in January, the country's trade, exports, imports and trade surplus contracted by 11.8%, 14.4%, 8.6% and 35.5% as compared to the preceding month.
Malaysia's manufacturing exports, representing 84.2% of total exports, saw a marginal 0.1% decrease y-o-y to RM94.97bil due to lower shipments of manufactures of metal, rubber products as well as iron and steel products.
However, there was an expansion in the exports of petroleum products and electrical and electronic products, as well as mining and agriculture goods.
Among its major trading partners, Malaysia recorded a 5.6% y-o-y increase in total trade with Asean to RM55.26bil.
Exports to the region grew 10.7% to RM34.1bil, which represented an 18th straight month of double-digit growth.
"This was underpinned by higher exports of petroleum products and E&E products. Imports from ASEAN declined by 1.8% to RM21.16bil," said Miti.
Shipments to Singapore, which is Malaysia's biggest export destination, grew 19% y-o-y to RM17.92bil.
Meanwhile, exports to China slipped 11.9% y-o-y to RM14.98bil on lower shipments of iron and steel products as well as petroleum products.
There were however higher exports recorded for chemicals and chemical products as well as E&E products to the country.
Other leading export destinations included the US, which saw a marginal 0.6% decrease in Malaysian exports, and Japan, which received 13.2% more exports from Malaysia.
As for imports, the three main categories of imports by end-use, comprising intermediate, capital and consumption goods, all declined during the month.
Malaysia's leading import sources China and Singapore saw a 4.9% and 4.1% decline in shipments to the country in January.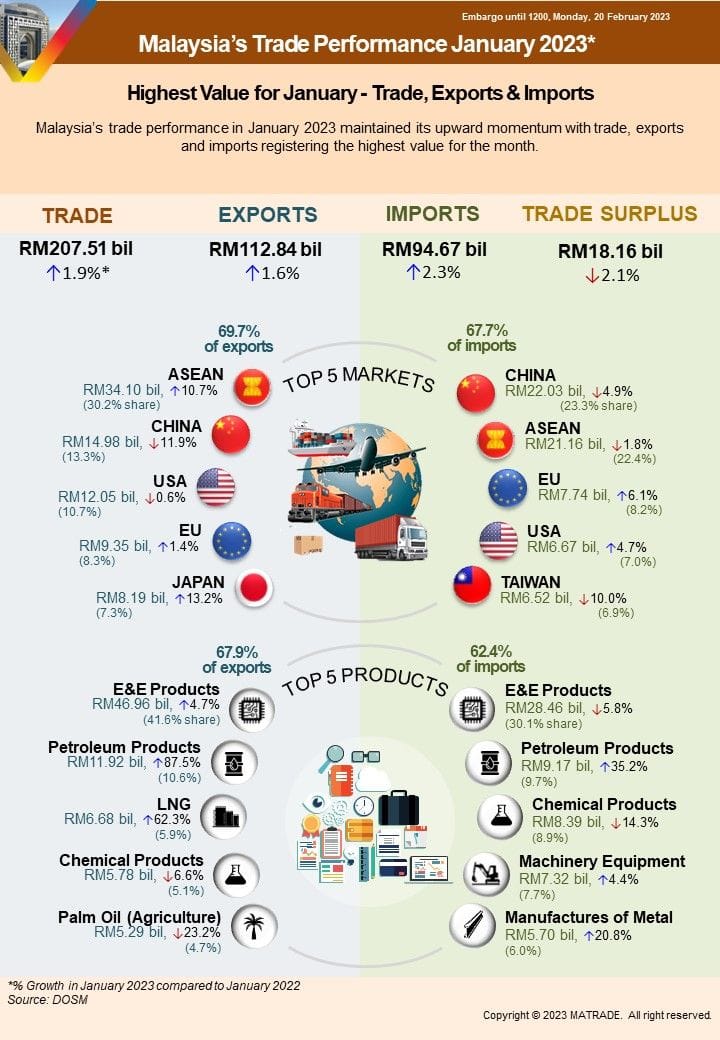 Source: The Star https://www.thestar.com.my/business/business-news/2023/02/20/malaysia039s-exports-expand-to-rm11284bil-in-january